Dear followers!
I am currently designing and building a wheelchair for SD-sized Ball Jointed Dolls. The plan is to make it in such a way that it can be shipped flat and assembled easily at home, IKEA style, with any more complete assembly, custom colours and additional changes at an extra fee.
I want this wheelchair to be suitable for as big a range of dolls as possible, and for that, I need your help!
In order to "standardize" the model as much as possible, I need some very specific measurements that can't all easily be found on any manufacturer's website, or even Den of Angels. The more different moulds, the better!
So, anyone with a doll between 60 and 70 cm in overall length willing to help, if you would be so kind as to PM me your doll's brand & body mould name and the following measurements, I'd be most grateful!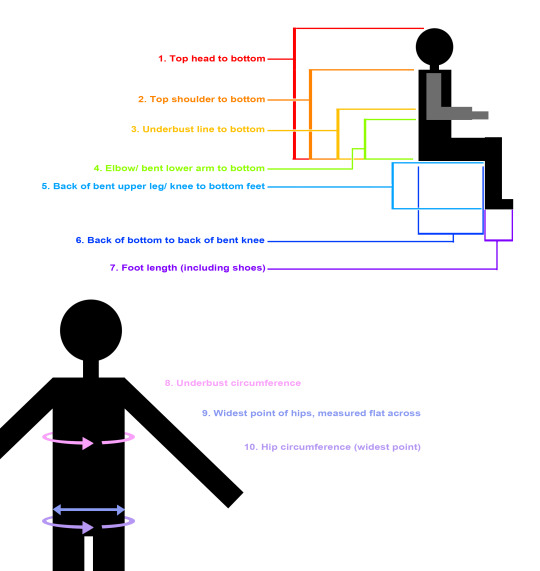 (I'll probably make an MSD sized version and maybe even a Yo-SD one as well at some point, but one thing at the time…)
NOTE for number 5: No shoes, or (fairly) flat shoes! It would be better to have to put in a higher pillow or take off the doll's shoes than have it dangle its feet above the foot rest. So leave out the platform boots and high heels for that one- unless your doll has fixed high heel feet. In that case, include them, and please mention it!
BJD
Balljointeddoll
Wheelchair
BJD Wheelchair
Ball Jointed Doll
Doll
Doll Wheelchair
Measurements
Puppit Productions
Pretty Please?